On the Admin menu of Hyperview in a Browser, click Manage Users.

Note: Only the Administrator user will see the Admin menu.
A panel appears listing all the users who have Hyperview in a Browser accounts (the account file is stored with other Hyperview Service user data files).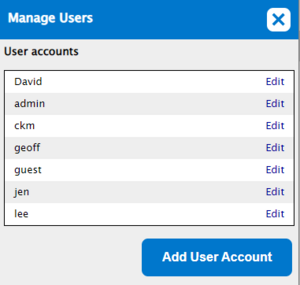 Edit: Opens an interface for modifying or deleting the user account. The user password can be changed this way.
Add User Account: Opens an interface for adding a new user account.
See Also